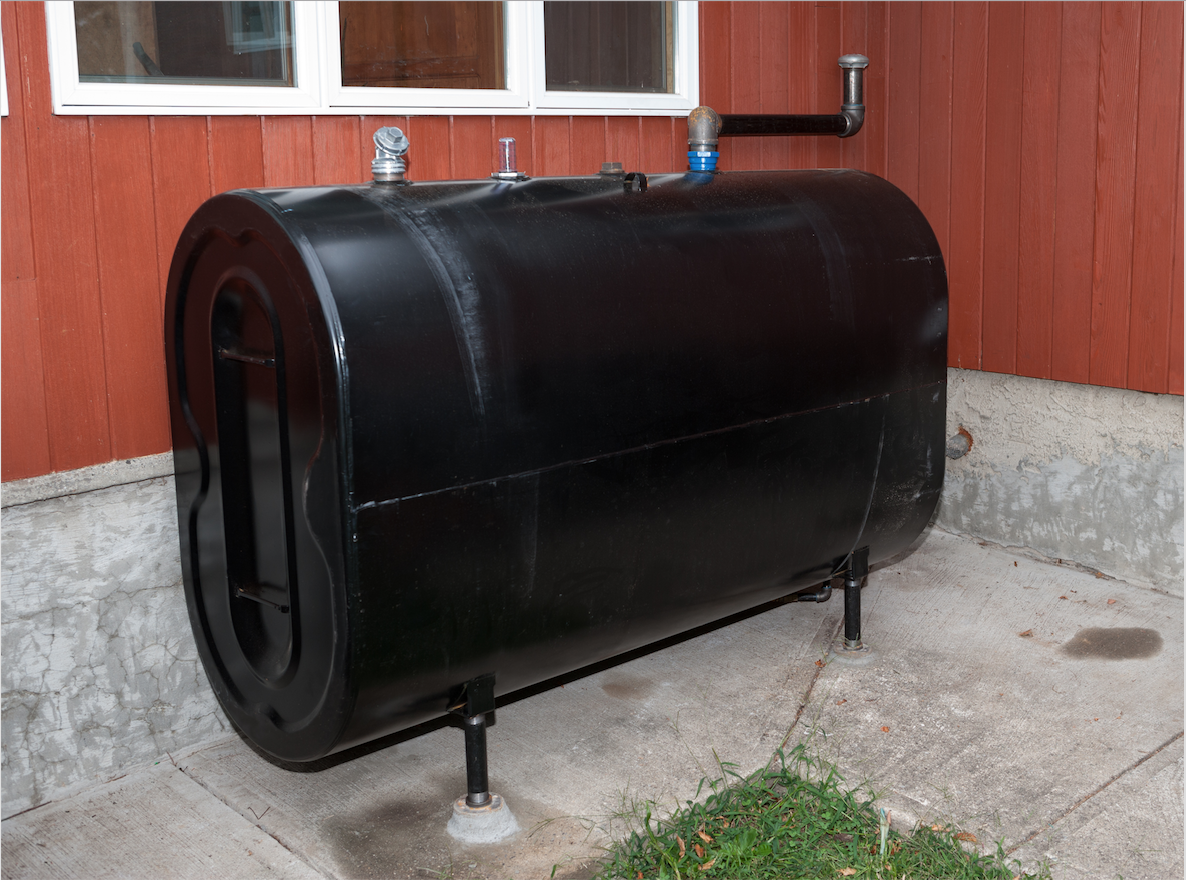 Oil continues to be the only option for heating a home in many areas.  Homeowners in these situations may find themselves needing to replace an older oil tank.
The most common reaction from a homeowner when they know they need a new tank is to generally ask for a newer model of the tank they already had.
However, in the past twenty years, oil tank engineering has seen many advances. As a result, whichever tank was right for your home when originally installed may not be the right choice for your home today. It is important to look at your options prior to choosing your new tank allowing you to select the tank that will serve your family and your property in the best way possible.
The first thing to consider when purchasing a new oil tank is the best location to have the tank installed. This decision will need to be made after looking at several factors such as the size of your family, the size of your home, and the layout of your property.
One option, an above ground, indoor storage tank is best for a family that needs between 150 and 400 gallons of fuel. These indoor tanks do not pose the environmental risks associated with an outdoor tank, however, you must be careful of what goes on in the area where you are storing the tank. Placing an above ground tank indoors near an area that the tank could be potentially punctured poses risk and safety concern such as a garage or basement playroom, as the health risks to children would be great. The benefit to an above ground, indoor storage tank is that they are easy to inspect and maintain. Because a homeowner can easily visually inspect the tank themselves, any issues can be quickly diagnosed and dealt with.
If an underground tank or above ground indoor tank are both non-options, an above ground, outdoor tank is an option to consider. These tanks hold a similar amount of fuel as above ground, indoor tanks. The issue that comes with an above ground, outdoor tank is exposure to elements. These tanks are often not protected from weather and do not have the soil to act as a barrier to the elements such as underground tanks do.  Not only does water, snow, and wind pose a threat to above ground, outdoor tanks, but there are also the dangers of downed trees and branches.
These tanks do allow for easy inspection and maintenance but can be an eyesore consequently affecting property values.
Lastly, underground tanks are the best bet for a homeowner that cannot store the tank on the inside and does not want the eyesore of an outdoor above ground tank.  An underground tank can maximize your storage potential without having to visually impact your property. The soil surrounding the tank will protect it from weather and environmental damage; however, any erosion of the tank that occurs will be undetectable until it is too late.
Any of these tanks can serve the needs of a homeowner, but it is up to the individual to consider the specific needs of their family to decide which is the right fit for their home.
Ensure a safe and secure installation of your above ground storage tank with JS Tank Removal. Tanks can be installed in most locations and are guaranteed Environmental Protection Agency (EPA) and Maryland Department of Environment (MDE) approved. Standard above ground tanks have manufacturer warranties available. We can help you with the evaluation of your current residential heating oil tank, oil tank selection and recommendations, and location of your oil tank install based on your property. Learn more about our services and how we can help you pick the perfect new oil tank for your home.